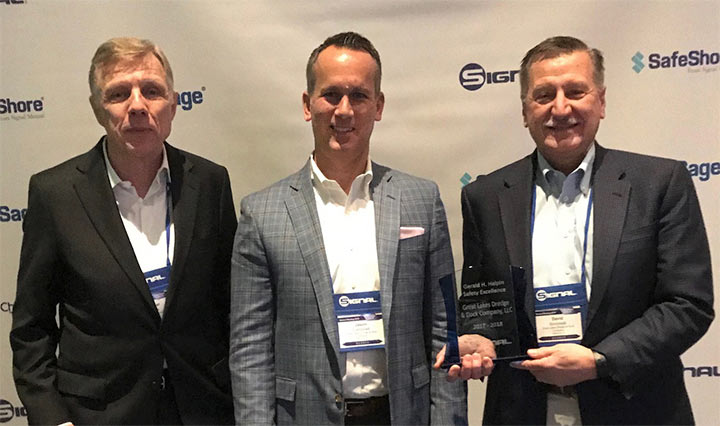 Great Lakes Dredge and Dock Honored by Signal Mutual for 2018 Safety Excellence Award
Great Lakes Dredge & Dock Corporation was the recipient of Signal Mutual Indemnity Association Ltd.'s Gerald H. Halpin Safety Excellence Award at the Association's Annual Members Board Meeting in Orlando, Florida on January 25, 2019. Chosen from over 250 member companies, GLDD received the Association's safety recognition based on continued advancement and demonstration of the importance of employee safety and health.
The Gerald H. Halpin Safety Excellence Award is Signal's highest award of honor designed to recognize the Signal Member who has exemplified the promotion of employee safety and health throughout their organization. GLDD was recognized for anchoring safety as a "core value" in their commitment to the prevention of workplace injuries and illnesses, and establishing safety initiatives that are integrated throughout the organizational structure through the implementation of a Safety Management System.
Gunther Hoock, Signal Vice President of Safety Resources, adds, "Signal believes that safety leadership starts at the top and permeates all layers of management, including the all-important first line supervisors who are often face-to-face with the hazards that front line workers face."
GLDD's David E. Simonelli, President Dredging, accepted the award at the ceremony on January 25th and noted, "Great Lakes will now join the community of Signal Members whose safety leadership has challenged us all to be the best we can be.  When I think about the remarkable changes in the dredging industry safety culture over the past decade, it's rewarding to know Great Lakes has played an important role. Throughout the industry, a commitment to safety is shared and competitors freely share safety info and incident lessons learned to prevent others from making the same mistakes."
Great Lakes recognizes that safe operations are the key to being a successful contractor. The Company has built a culture with team members who understand the "Great Lakes Way," living safety every single day. Simonelli added, "We would not have received this recognition were it not for the full engagement and commitment of our team."